Hey everyone! I'm attempting to unplug  a bit over the next couple of weeks to enjoy some time off with my family  but I am absolutely overjoyed today to have one of my favorite bloggers here guest posting!! Without further ado: Jacque from The DIY Village!!
Hello everyone I'm Jacque and I blog with my husband, Matt over at
theDIYvillage
.
I am so happy to be with you all today and want to give Melissa a huge thanks for having us over! We love to DIY and are constantly working on our
never ending honey-do list
.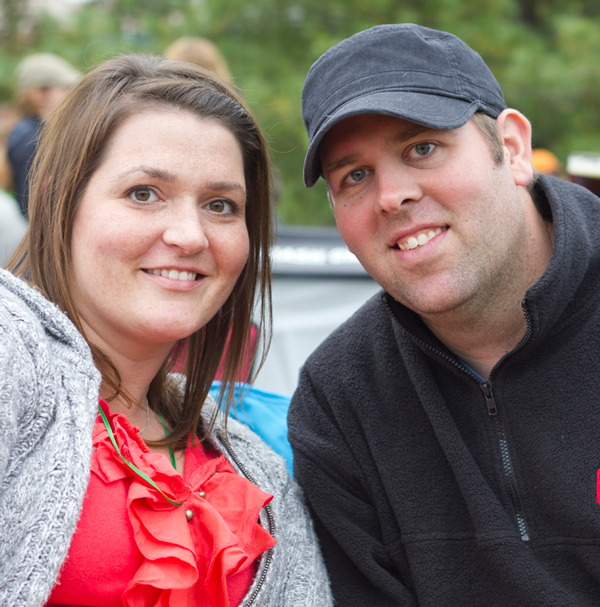 I am always on Craigslist looking for treasures that we can refinish or even reinvent to fit our style. I'm on search so much that Matt caught my CL bug and was lucky enough to come across a 'colorful' desk that a mom had painted for her son 20+ years ago. We settled on a purchase price of $25 and back to our house it went!
Here's a picture of what it originally looked like…
Nice huh?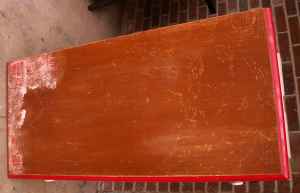 Once we got to really inspecting the work we needed to do we found that this was actually an old Naval desk! It was written on the back of the desk and inside one of the drawers! I found that to be an added "cool" story to go with the desk!
The first thing we needed to do was to remove as much paint as possible! We used a combination of different techniques to remove the paint. We used hand scrapers, heat guns, palm sanders, belt sanders, and even an oribital sander. The paint removal took a total of about 8 hours over a 2 day period.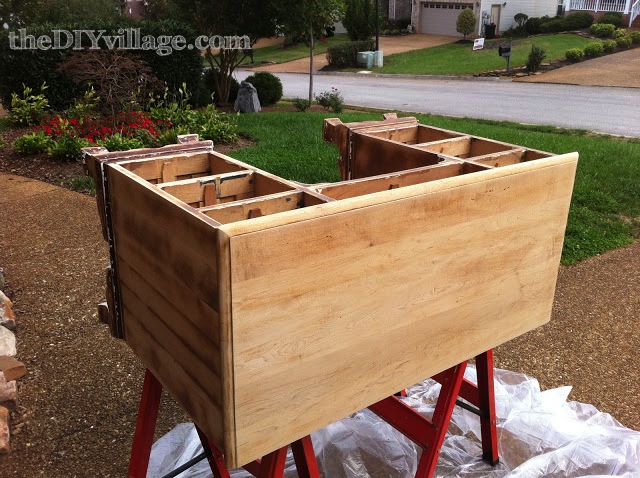 Once all the old paint and stain was removed we primed the drawer faces and the frame of the desk with a Kilz Multi-Purpose Primer.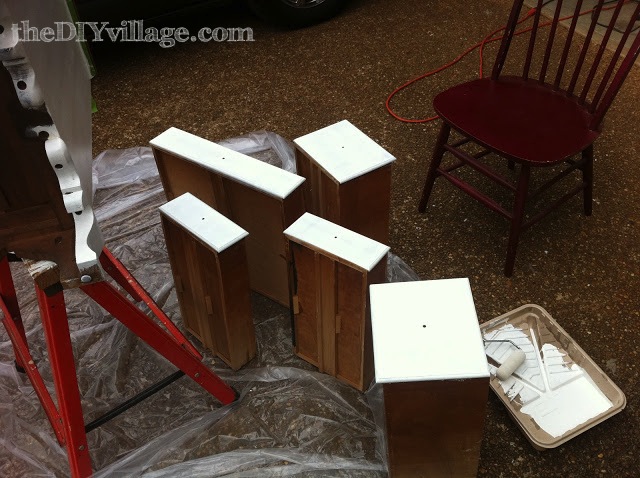 I decided to stain the top of the desk, so we left wood raw.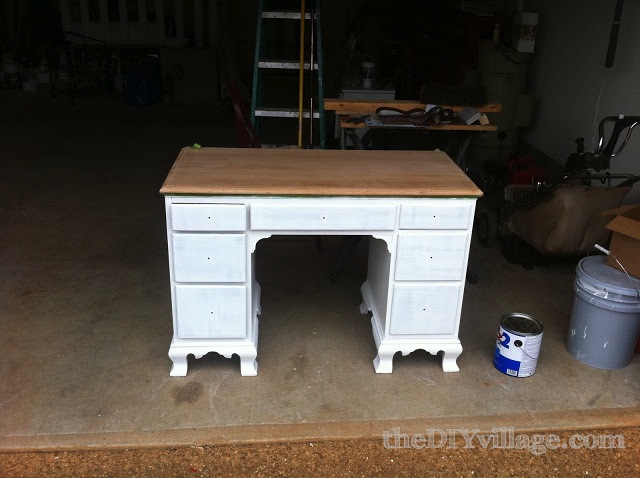 The next step was to paint the drawer faces and the frame. We opted for a Benjamin Moore paint we found at the hardware store discounted as a "mis-tint". I think we may have paid $3 for the quart of paint.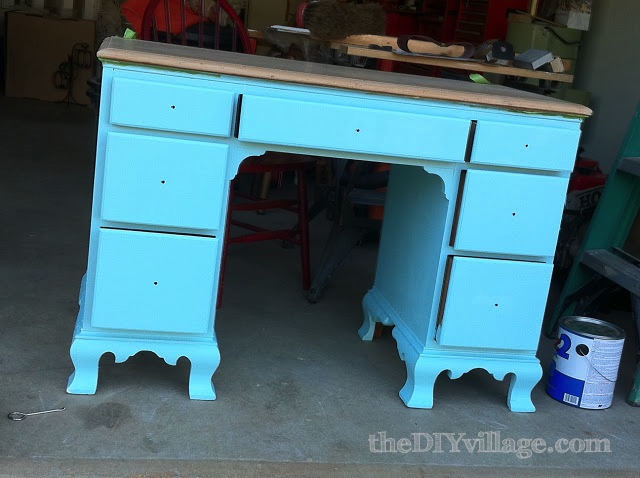 Before applying a finish coat to the desk, I had the idea of distressing the frame to give it a more "vintage" look. We used some cabinet scrapers from Woodcraft…And let me tell you, those are SHARP! So if using them, be extremely careful holding them. Matt made the mistake of loosely holding a scraper while using it and ended up having to take a "safety timeout" because it slipped and cut his thumb. It's easier to see the distressing in the final pics below so I'll forego posting any here.
We used a poly-acrylic made by MinWax to seal the desk. And lastly we used PolyShades made by MinWax to stain and seal the top surface of the desk. It's a stain and poly combined and after a few sandings and applications, the desk top looked immaculate!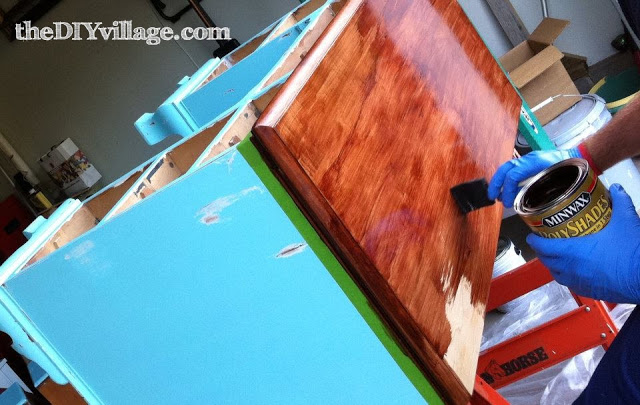 We moved the desk into my
Craft Room
and added some decorative knobs we got at Hobby Lobby. And after 4 days of refinishing and less then $50 spent, here's the final result.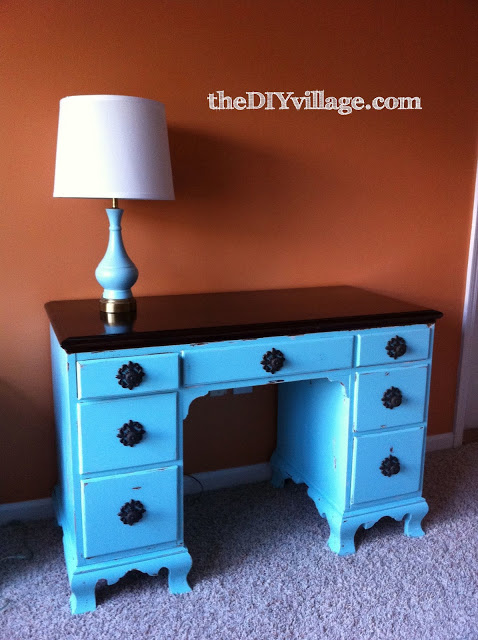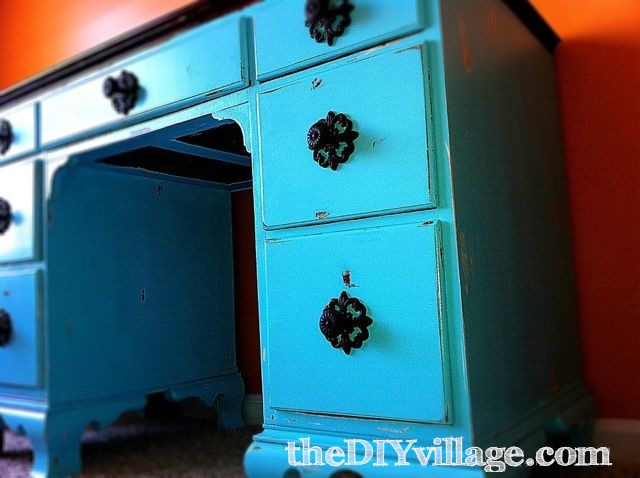 Check out the before and after of our refinished desk.
Thanks so much to Jacque and Matt for sharing this amazing transformation!!! I mean, wow!  You can keep up with
The DIY Village
and all of their amazing projects on
Facebook
,
Twitter
, and
Pinterest
!