I posted yesterday about spray painting our existing builder-grade light fixtures to give them the appearance of being oil-rubbed bronze. I just loved the way they turned out but for the eat-in area of the kitchen I really wanted to upgrade the light fixture.  Because I saved so much money by spray painting the flush mount fixtures I decided to splurge on an Edison Bulb-style pendant light for the space.
Restoration Hardware has some beautiful Edison Bulb lights but unfortunately by time I was ready to buy they no longer carried the oil rubbed bronze one I had been drooling over for months.  But then I found this lookalike at Lowes: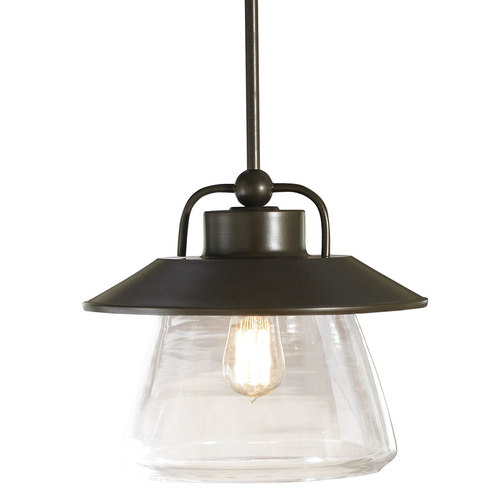 At $118 it was higher than I usually would have spent but like I said previously, I felt it would be the icing on the cake in the area.  Plus, because the kitchen is open to the living room, it really adds to the feel of the entire downstairs of the house.
I really love the way it looks in the space, what do you think?  (Oh, and yes, getting some curtains and wall decor up in this area is on my extensive to-do list! I'd be happy to hear any suggestions for curtains-I've been at a loss for what can withstand little dirty hands but add to the space!)
OUR LATEST VIDEOS