As I was thinking about Christmas gifts the other day I remembered these ceramic tile coasters I made as gifts two years ago and thought I'd share them with you. They are very easy and inexpensive to make and make fantastic presents.
The tiles can be found at any home improvement store, I believe mine came from Lowes.  I took a large background stamp and inked it with Stazon ink (a permanent ink, can be found at any craft store in the stamping aisle).  Once I had stamped the tile I sprayed a sealer on it.
If you don't want one of the few colors Stazon offers you can also use craft ink (this is a thicker ink that does not dry right away-it is not water-based.) After you stamp your design use a heat gun to "set" the ink and spray with a sealer once set.  I used craft ink in the coaster pictured below.
Last but not least, add felt pads to the bottom so you don't scratch your tables!
I always made matching sets to give as gifts.
Let me know if you try them, I'd love to see how they turn out!
Linking to: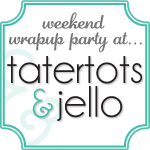 and
here
.