While perusing the Anthropologie website the other day over coffee I came upon the sweetest little Chrysanthemum Vase and I was instantly inspired to make my own.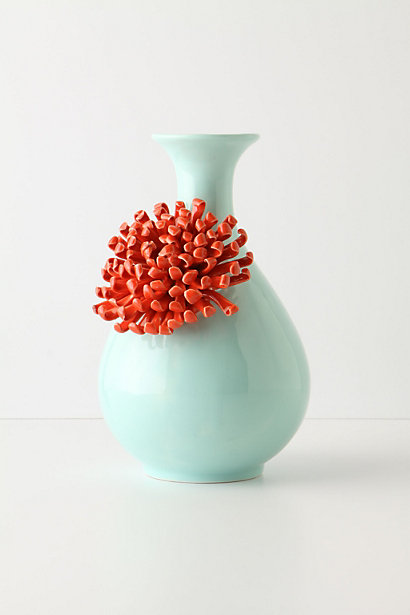 Do you remember my Faux Milkglass Vase transformation? Well, I had one little dollar store vase leftover who was forgotten during the makeover and it was screaming for a new look! Here is what I started with:
The first step was coloring the vase. I used spraypaint-first priming with white primer then spraying with Krylon Spray Paint in Calypso. It's essential to prime the vase if your spray paint is not a paint & primer in one. Also, be sure to use multiple very light coats to avoid drips.
Once my vase was colored I needed to create a Chrysanthemum for it. The Anthropologie version is ceramic but for my version I made a paper flower.
I started with two pieces of textured cardstock. I cut it into strips-(2) 3″ by 11″ strips, (2) 2.75″ by 11″ strips, and (2) 2.5″ by 11″ strips. I used some decorative scissors to cut a wave pattern into one side of the cardstock then fringed with regular scissors. With my hot glue gun handy I started rolling one of the 2.5″ strips to create the flower center, gluing as I rolled. When I came to the end of the paper strip I added the next 2.5″ wide strip and continued, moving to the 2.75″ strips and then finally the 3″ strips.
After all my paper strips were rolled I used my fingers to push down on the fringe and shape it into a flower. You can also use a pencil to roll the ends depending on the shape you want. When the flower was finished I attached it to the vase with hot glue and I was all finished!
I think it turned out super cute and you could really change the look by changing the colors up too!
What do you think? Where would you put a sassy little vase like this in your home?
Flash Giveaway!!!  The fine folks over at DecoArt are offering a Mixed Media Grab Bag to one of my lucky readers-super simple to enter, just leave a comment on this post and I'll pick the winner Friday!