I was recently approached to participate in Kirkland's monthly blogger series with this month's theme being "Treat Yourself." Never one to turn down a treat, I had to take them up on the offer!
I knew I would want to browse a while while I was shopping at Kirkland's so I had to wait for a kid-free day to do my shopping.  To contain my excitement beforehand I browsed Kirkland's website for some cute, affordable seasonal decor. Here are some of my favorite Halloween and Harvest items I found:
I love this Harvest Canvas.
These skeleton forks would be perfect for a party!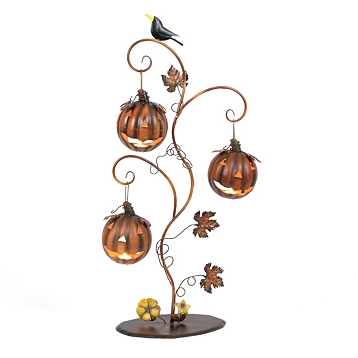 I love this Metal Pumpkin Candle Holder
Finally the day arrived (my birthday) when I could take my trip into Kirklands for some shopping and it definitely did not disappoint.  I was in love with this owl display:
And check out all this harvest goodness:
Want to find out what I bought? Stop back by tomorrow to see my new Autumn decor and there might even be an EXTRA special surprise for one of my readers too!
You can also find Kirklands on Twitter, Facebook, and Pinterest!
I received compensation for my Treat Yourself blog post. Kirkland's partnered with several bloggers like me to raise brand awareness in the month of October. All purchases and content are on my own accord and reflect my personal opinion and style. Kirkland's blogger outreach policies abide by the WOMMA Ethics Code, FTC guidelines and social media engagement recommendations.